Network Newsletter Summer 2007
Jazz Vocalist/Composer Ruth Naomi Floyd
is a gifted vocalist-composer who has been at the forefront of creating vocal jazz settings that express Christian theology for over 13 years. As a leader, she has released several highly acclaimed recordings. Blessed with a soaring mezzo-soprano voice, critics have praised Ms. Floyd's music for its distinctive sound of progressive ensemble jazz that is seamlessly blended with explicit Biblical messages of her faith in God.
Ruth Naomi Floyd is a woman with a mission. She writes and performs songs whose lyrics either quote scripture or roughly paraphrase it. Unusually, however, instead of operating in the musical area generally associated with gospel singers such as Mahalia Jackson, Floyd is an out-and-out jazz singer. Ruth shares, "I am grateful to God that I am able to express my faith as a Christian in a context of music (jazz) that is one of America's greatest gifts to the world in the arts and humanities."
CJA Network Featured Article:
We Are The Ones We Are Waiting For! "...There has never been a greater time for us Christian jazzers than right now to celebrate our musical gifts to the glory of God! But we must open the doors to do so. The Apostle Paul's ministry is an excellent example of this. He went from city to city aggressively preaching Christ and only when the doors shut in an area did he move on. Of course, there are times to wait upon the Lord, but the familiar verse in scripture, "They that wait upon the Lord shall renew their strength" is better translated as, "They that look unto the Lord shall renew their strength". There is a tremendous difference between "waiting" and "looking"... waiting is passive - looking is active."
Celebrate and promote jazz in churches!
Attention all artists, musicians and newsletter subscribers! Ask your pastor or church to have a jazz concert, jazz worship service, or Jazz vespers service at your local church! Tell them about your ministry playing jazz to the glory of God! If you are a fan share with your church your love for jazz and favorite CJA network artists - and how to contact them for an engagement!
Help keep music alive in our schools!!
THE MR. HOLLAND'S OPUS FOUNDATION (MHOF) supports music education and its many benefits through the donation and repair of musical instruments to under-served schools, community music programs and individual students nationwide.
To date, MHOF has donated $4.5 million worth of new and refurbished instruments to 751 music programs and individuals across the country, effectively helping hundreds of thousands of students and hundreds of dedicated teachers. In addition, MHOF has served 89 schools in six states affected by Hurricane Katrina, donating approximately $1.5 million worth of new and refurbished instruments.
Across the nation, school and community music programs have been discontinued or severely diminished due to budget cuts. The positive effects of music education on children's emotional and intellectual growth have been proven. MHOF sees the importance of music in the lives of all children, and seeks to keep music alive in our schools. There are many ways you can help! You can donate an Instrument or contribute donations online, by phone, or by check.
For more information visit online at www.mhopus.org or call 818.784.6787
CJA Network New Members Spotlight:
We Welcome Six New Members!
We are very proud to add four new members to the CJA Network!
Willie Pickens - continues to be one of Chicago's most in-demand jazz pianists. He has performed several times at the famed Chicago Jazz Festival, to rave reviews, and has been the featured pianist on impresario Joe Segal's Jazz Cruises, where he has shared the stage with Clark Terry, Louie Bellson, and Red Holloway, among others. He has also performed with fellow pianist Marian McPartland, both in concert and on her well-loved NPR show, Piano Jazz. 2001 saw the release of their album of duets "Ain't Misbehavin'" on the Concord label.
Both Willie and his wife, Irma, have been members of Hyde Park Union Church (HPUC) since the 1970s. Willie's arrangements of hymns, spirituals, and carols have delighted the congregation for years. From the late 1980s through 1994, Willie and Senior Minister Susan Johnson led a special annual Christmas service in which Willie gave well-known Christmas music his own jazz treatment. "Gradually, it dawned on us that we should open it up to the public," recalls Johnson, but she had to convince Willie to play in his trademark volcanic style; "Willie kept saying 'but this is church,' and he thought he should be more reverential while playing in the sanctuary." In 1995, the first Jazz Christmas—a full-blown concert with featured guest artists—was held, and it has been growing in popularity ever since. Guests have included Kurt Elling, Jon Faddis, Randy Brecker, and Susan May, to name only a few.
Most recently, Willie has produced two sacred jazz CDs - JazzSpirit I and JazzSpirit II - featuring solo, duet, and ensemble settings featuring Gary Bartz (alto sax) and Terrell Stafford (trumpet) reinterpreting hymns and spirituals.
In Jazz Spirit I and II, Willie Pickens takes European canonical hymns, American gospel music, and African-American Spirituals, and puts them into the wonderfully strange and compelling vernacular of jazz. Mr. Pickens uses the phenomenal range and power of jazz to magnify the unfathomable breadth, length, height, and depth of the Divine.
Hear Audio Samples here!
Ruth Naomi Floyd - is a gifted vocalist-composer who has been at forefront of creating vocal jazz settings that express Christian theology for over 13 years. As a leader she has released several highly acclaimed recordings. Blessed with a soaring mezzo-soprano voice, critics have praised Ms. Floyd's music for its distinctive sound of progressive ensemble jazz that is seamlessly blended with explicit Biblical messages of unwavering faith in God.

Ruth Naomi Floyd leads her own multi-faceted ensemble and her recordings consist primarily of original compositions. Her association as the co-founder of Contour Records affords her complete artistic freedom to record her own works and collaborate with a diverse range of musicians.

Ms. Floyd has recorded and/or performed with such notable instrumentalists as James Newton, Gary Thomas, James Weidman, Jay Hoggard, Bryan Carrott, Terri Lyne Carrington, Ralph Peterson, Jr., Uri Caine, Charles Fambrough, Julian Joseph, Craig Handy, Reggie Washington, Matthew Parrish, Mark Prince, Ed Howard, Tyrone Brown, T.K. Blue, Bobby Zankel and Greg Tardy.
Ruth Naomi Floyd is also a committed music educator. She teaches music at Spruce Hill Christian School in the city of Philadelphia and she has recently been appointed as an Adjunct Professor of Vocals in the Church Music Program at Philadelphia Biblical University of Langhorne, Pennsylvania. Ruth Naomi Floyd continues to make the city of Philadelphia her home where for over twelve years she has been devoted and active in providing compassionate care and spiritual support to people affected by HIV and AIDS.


Hear samples from Ruth's new CD and more here!
James Weidman - New York-based pianist James Weidman is indisputably one of the world's top sidemen.Over the years he has played and recorded with musicians as diverse as Max Roach, Woody Herman, Archie Shepp, James Moody, Greg Osby, Slide Hampton, Jay Hoggard, Marvin "Smitty" Smith, Gloria Lynne and blues diva Dakota Staton. For five years he was the featured keyboardist (replacing Geri Allen) for avant-garde saxophonist Steve Coleman and the Five Elements and the M-Base Collective. And he was part of the Spirit of Life Ensemble that held the Monday night spot at Sweet Basil for five years, as well as co-leader (with saxophonist TK Blue) of the Afro-Caribbean-Jazz quartet, Taja.
Weidman has performed at the world's major venues and festivals, including the
Montreux, Monterey, Newport, North Sea and JVC Jazz Festivals, Carnegie Hall,
Birdland, Blue Note, Sweet Basil, Village Vanguard, Iridium and Jazz Standard.He has also been the accompanist of choice for some of the world's most celebrated
singers, including legendary jazz vocalist Abbey Lincoln (for nine years), and Cassandra Wilson (for two years) He has also exercised his producing chops for several of Jazz singer Ruth Naomi Floyd's CD's which features some of
his compositions and arrangements, as well as his piano accompaniment.
Weidman, who displays incredible versatility - developed over 30 years of working in a myriad of styles states, "The more genres you are comfortable with
the deeper your understanding of music". He also shares with his students (he is a faculty member at William Paterson University), "the better your technique, the better your communication. However, the content of the communication is the most important thing. You're really telling a story to your audience. It's a shared journey."
For more information and audio samples visit
here!
Dan Fogel - is rooted firmly in the organ tradition along with great Hammond B-3 jazz players like Jimmy Smith, Groove Holmes, Don Patterson, Jimmy McGriff, and Wild Bill Davis. Dan caught the Hammond B-3 bug early! It was after hearing Groove Holmes' B-3 version of "Misty," that Fogel was forever hooked on the sound of Hammond organ. Fogel started piano lessons at the age of ten, but it was the organ that really caught his attention and affections. With his parents' help (and a whole lot of shoeshine money), Fogel purchased his first B-3 organ when he was only 11 years old!
Fogel now lives in the the Atlantic City area and over the years he has worked with such jazz notables as Pat Martino, Odean Pope, Billy James, Eddie McFadden, Sunny Murray, Cecil Payne, Tony Ventura, Rufus Harley, Monette Sudler and Harvey Mason. Fogel has released six albums on his own Laughing Waters Label.
"Dan's new CD release, "15 West" was recorded live at a nineteenth century church in Ventor, New Jersey, with no overdubs, it swings with overflowing energy. The recording breezes through nine selections with force and eloquence. Fogel's 15 West, while furthering the tradition, stamps the music with his own personality as well. Nat Hentoff and Pete Fallico compliment Dan's powerful B-3 organ with jazz guitar and drums. "15 West" will carry on the soulfulness of Mr. Fogel into the next generation."- Jazz Improv Magazine.
New release by Dan Fogel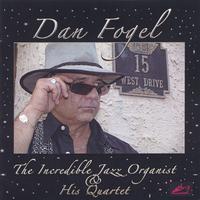 For more information and audio samples visit
here!
Scott Wilson - Scott Wilson has performed and worked with numerous jazz artists including Wayne Bergeron, Wycliffe Gordan, Shelly Berg, Steve Smith, Denis Deblasio, Greg Bissonette, Brian Bromberg, John Beasley, Carl Allen, Peter Erskine, Eric Marienthal, Bobby Shew, Slide Hampton, Sam Rivers, Terrell Stafford, Dick Oats, Brandon Fields, Lew Soloff, Ron Blake, John Pizzerelli, Dave Loeb, Steve Marcus, Jeff Coffin, Chris Buono, Dan Haerle, Ted Rosenthal, Marvin Stamm, Fred Hamilton, Horace Silver, and many others. Scott's primary instrument is trumpet but he also can play keyboards.
Scott also has played and recorded with the group MINDWALK, an original 5-piece music ensemble whose Contemporary Jazz sound includes elements of Funk, Rock, Hip-Hop, and Latin. Mindwalk has opened concerts for such diverse artists as Spyro Gyra, Acoustic Alchemy, Jon Secada, The Rippingtons, Richard Elliott, BB King, The Yellowjackets, Maceo Parker, Herbie Hancock & the Headhunters, Bela Fleck & the Flecktones to name just a few. He was also the music director, performer, clinician, and consultant for Disney World.
Wilson currently teaches music at Snow College in Ephraim, Utah. He has written two excellent books on Jazz Instruction: "The Ultimate Jazz Tool Kit" and "The Ultimate Music Workbook". Wilson is also an excellent arranger and has charts/arrangements for Big Band and ensembles available.
For audio samples and more information visit here!
Johannes Landgren - is an organist from Sweden who has a very unique concert format - traditional church organ with saxophone! Teaming up with Hakan Lewin on sax these two have done concerts all over Europe (and several in the USA as well!) Their concerts in churches and arrangements prove that even in a more traditional setting with a church organ that jazz can provide an effective spiritual punch!
If you have never heard a traditional pipe organ playing jazz with great sax you simply must hear this material! In "Freedom- The Vision" they use both church organ, Hammond B-3, and Sax. The other two CD's, "In My Solitude" and "Ellington And More" are recorded using church organ and sax. We are very proud to add another CJA Network member from Europe!
For audio samples of his recordings and more information visit here!
Other CJA Network News!
Patty Peterson - Jazz singer Patty Peterson is returning to the stage!!! As many of you know only a few months back Patty had to have emergency surgery (an Aortic Dissection) on her heart. It is indeed a miracle that she survived at all! Patty will also be talking about her return to the stage this July 29th when Patty, her family and friends perform a concert at the Fitzgerald Theater in St Paul to benefit the Minneapolis Heart Institute Foundation at Abbott Northwestern Hospital. Details of the show can be found at www.Pattypeterson.com or www.fitzgeraldtheater.org Patty is very grateful for all the prayers and support and we are very thankful that she is still with us!
Peggy Duquesnel - Jazz pianist Peggy Duquesnel has a new CD entitled, "Divine Light". Teaming up with Peggy is pianist Steve Hall and Bankbeat Productions! Audio samples can be heard at www.peggymusic.com. Peggy also recently appeared in concert with the "Peak Experience All Star Band" to help benefit the California Jazz Foundation. What is the California Jazz Foundation? It is a non-profit organization, formed in January, 2006 to help jazz musicians in need. It is the goal of the foundation to assist jazz musicians (and others who have made a substantial contribution to jazz) who are uninsured or underinsured and are in need of medical assistance which they can't afford, directing them to the appropriate medical professionals and medical services, and to help those who find themselves in a financial emergency due to a life crisis. For more information visit here!
Pat Coil - Jazz pianist Pat Coil has been very busy teaching courses at the Jazz Workshop in Nashville, TN. He's also on the jazz faculty at Middle Tennessee State University teaching jazz piano & combos, and at Brentwood Academy in Brentwood, TN. Pat continues to do studio work, and his sextet has a new CD coming out soon. (We will keep you posted! )
Louie Bellson - Six-time Grammy nominee drummer-composer Louie Bellson recently received the "Living Jazz Legend Award" from the Kennedy Center for the Performing Arts in Washington, D.C. Other recent events include "A Tribute to Jazz Legend Louie Bellson" performance at the Savanna Jazz Club in San Francisco. Word is out that Louie Bellson will collaborate with old friend Clark Terry on recording their next CD...we will keep you posted!
Chuck Marohnic - recently performed in the Washington/Baltimore area where he played a jazz worship service at Christ Crossman UMC in Falls Church, VA. AnnaMaria Mottola, music director, and Pastor Mochel Morris had arranged a four week series of Jazz and Theology called "Swingin' in the Pocket". Chuck had some excellent musicians joining him from the DC area, Cyndi Frame, vocalist, Glen Dewey, bass and Frank Russo, drums. Chuck also was invited to be a performer/clincian at the Interim Ministers Conference at the Baltimore Maritime Center where he performed in 3 worship services and 2 workshops.
David Arivett - Pianist/Composer David Arivett has a new "Jazzed In Church" series of songs/arrangements specifically designed for use in church, vespers, or sacred concert. David keeps very busy as the CJA Network Founder, just finished a new CD, "Jazzed And Glad" and continues to celebrate his musical gifts by using jazz in worship services and concerts. To hear audio samples visit here!
Justo Almario - After wonderful, fun filled, and blessed European performances with Andy Garcia and Grammy Award winner Andrae Crouch, saxophonist Justo Almario and his Quartet will be back home performing in the Hollywood area at the Hollywood Studio Bar And Grill. The quartet consists of: Rick Zunigar - guitar, Max Almario- drums, Carlitos del Puerto - bass, and Justo Almario - Sax, flute, and clarinet.
Lance Bryant - Saxophonist & vocalist Lance Bryant recently performed with his jazz Quintet at Andover Baptist Church in Andover, Maryland. The concert also featured gospel music sung by the ABC Unity Choir and special guest and local gospel vocalist Darlene Wynn.
Pete Malinverni - The jazz pianist recently performed a Jazz Vespers service entitled, "Joyful!". The evening featured music for Gospel Choir and Jazz Ensemble as well as the Devoe Street Baptist Church Choir and guest soloists at the St. Albans Congregational Churchin Queens, NY. He also performed with his jazz trio at the Watercolor Cafe in Larchmont, NY.
As you can see our network artists are keeping very busy - to the glory of God!
Food for the jazz soul - Recommended reading.
Imagine - A Vision For The Christian Arts - Steve Turner. "Turner, in this well-rounded and thoroughly biblical book, issues a compelling invitation to everyone in the creative community to move redemptively, as salt and light, into the world of the arts precisely for Christ's sake" - Michael Card
The Heart Of Jazz - Grossman/Farrell "...true jazz played with feeling and inspiration seems to me more truly an act of worship than singing some of the religious songs I learned back in Sunday School. There's nothing wrong with those songs but a lot of them only touch our surface feelings...life is so big and wide and deep that you have to go beyond what's superficial..."
Duke Ellington: A Spiritual Biography - Janna Tull Steed. This book focuses upon the underlying spirituality behind the music and personality of "the Duke"!"
The Rise Of Gospel Blues - The Music Of Thomas Dorsey In The Urban Church - Michael W. Harris. "Delving into the life of the most prominent person in the advent of the gospel blues movement, Harris illuminates not only the evolution of this popular musical form, but also the thought and social forces that forged the culture in which this music was shaped".
Smooth Pizzazz Radio! No "Snooze Jazz" Allowed!!!
Smooth Pizzazz...Jazz with Pizzazz! Just a few clicks away is an internet radio station containing nearly 500 tracks from top jazz artists. Broadcasting all over the world 24/7 Smooth Pizzazz has the most complete collection of jazzed up hymns, sacred jazz, and spirituals you will find anywhere! Its free so what are you waiting for? More info here!
| | |
| --- | --- |
| | |
| All the Jazz Educational resources you need to take your music to the next level! | All the charts and resources you need to play more inspirational jazz in church, concerts, and studio! |
Articles exploring the connection between God, creativity, spirituality, and jazz here!
"Just imagine: a joyful Jesus! Haven't we had enough of grim religion?"
Celebrate Today And Be Jazzed!!!