Network Newsletter
Fall 2006
CJA Network Featured Interview: Jazz Pianist Pete Malinverni
"To most jazz fans, the intimate connection between music and spirituality is simply assumed. The aspiration of many jazz musicians to place both themselves and their listeners in direct connection with the divine has been well documented over the years, perhaps most notably with John Coltrane whose music was both unabashed praise and ecstatic thanksgiving to a God of grace and love. Furthermore, many musicians express the feeling, if not outright belief, that they are merely receivers, or antennae, resonating to a voice that originates from something deep yet residing outside of and beyond themselves"....
CJA Network Featured Article: Celebrate And Be Jazzed!
"Imagine with me for a moment that you gave a friend a great jazz recording as a gift. Of course you couldn't wait to receive your friends reaction to receiving your gift! You would want to hear a thank you, but even more than that you would derive much pleasure from hearing them describe their response, their enjoyment they received from listening to the recording, and their appreciation for the gift. After all, their delight was the very reason you gave them the gift in the first place! Well, here is something to be truly "jazzed" about! The Creator has given us the precious gift of life and is delighted when he sees us enjoying and celebrating life!" So why aren't we more, "jazzed"?
CJA Network New Members Spotlight:
We Welcome New Network Members!
Pete Malinverni - Since arriving in New York in 1981 Pete Malinverni has established himself as a highly respected presence in NYC Jazz and national concert performances, as well as abroad in Europe, South America, and Japan. Pete's enthusiastic audience has found him on stages in NYC and around the world such as the Weill Recital Hall at Carnegie Hall, the Caramoor Festival, Symphony Space, Rome's Jazz and Image Festival at Villa Celimontana, Chile's Santiago Jazz Festival and clubs such as Birdland, the Blue Note, Bradley's, etc. Most often playing solo piano or with his trio, Pete has also appeared with the likes of Joe Lovano, Charles Davis, Vernel Fournier, Mel Lewis, and others.
Since 1993 Pete has served as Minister of Music at the Devoe Street Baptist Church in Brooklyn, NY, exposing him to the music of the African-American church, and his suites for vocal choir and jazz quartet based on the Psalms of David, demonstrate his abilities as a composer on a grander scale. His June 2006 release "Joyful!", an ArtistShare CD/DVD, documents this new and exciting form of music. Check out Pete's interview, (see above) for a closer look at a man who is playing, writing, and recording jazz music in church!
More information and audio samples here!
Richard Birk & Jazz Sunday - Richard Birk is the leader/founder of Jazz Sunday. Jazz Sunday is a jazz sextet that began leading jazz worship services in 1990 at Christ Lutheran Church in Lake Jackson, Texas. Since that time they have led jazz worship services and performed concerts at many churches in the greater Houston area. Their repertoire includes jazz accompaniments of traditional hymns; special instrumental arrangements of hymns and spirituals for use as prelude, anthem, offertory, communion and postlude; and original compositions for jazz worship
Jazz Sunday Group Members: Richard Birk plays trombone for the group and also arranges and composes as well. Sparky Koerner, - trumpet Johnny Gonzales, - saxophones Tom Borling, piano Brian Casey, bass and Ben Atkinson, drums. All of the members are distinguished band leaders, conductors, and educators!
For more information and audio samples visit Jazz Sunday here!
Joel Holmes - Joel is a jazz pianist who is a recent graduate of the acclaimed Peabody Conservatory of Music at John Hopkins University. He has also studied with Bobby McFerrin, Roy Hargrove, Gary Thomas, and a host of other respected musicians. Joel has been influenced by jazz greats like Oscar Peterson and Art Tatum but also Herbie Hancock, Keith Jarrett, and Ahmad Jamal. Only 23 years old, Joel already composes his own style of music blending an array of traditional and contemporary jazz, gospel, R&B, soul, hip-hop, neo soul, funk, classical and pop. Joel shares,, "My music is a direct expression of musical influences, spiritual freedom and personal interpretation.
For audio samples of his debut CD, "Eternal Vision" and more information visit here!
New Jazz Recordings

New CD's from Christian Jazz Artists Network Members!
Seeds - Jazz pianist Chuck Marohnic has a new jazz quartet named, "Seeds" and a new CD, "Justice For The Earth". All songs are original compositions from members of the group. The theme for the CD is a call to honor God's creation, the earth. Very moving straight ahead jazz. The first track, "Justice For The Earth" has very beautiful flugelhorn (Fred Fornay) and the jazz ballad has a prayerful quality to it. Fred also contributes other well written tunes. Other members of the quartet include Dwight Kilian (bass) and Dom Moio (drums).
To preview visit here!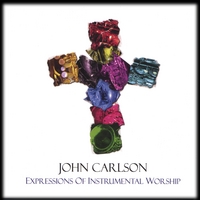 Saxophonist John Carlson has a new CD, "Expressions Of Instrumental Worship". All instrumental and saxophone driven, the arrangements span from upbeat and celebratory to meditative and contemplative. Includes a very hot version of, "He's Got The Whole World In His Hands" featuring Kirk Whalum and John on saxes! These arrangements were developed during John's many years as Music director for Willow Creek Community Church in the Chicago, IL area.
To preview visit here!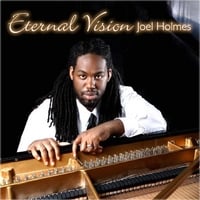 Jazz Pianist Joel Holmes has a new CD, "Eternal Vision". A recent graduate of Peabody Conservatory Of Music the young pianist, ( 23 years old ) shows on his debut CD that he has both compositional skills as well as chops! There are also cool covers of a Miles Davis tune and the gospel hymn, "Amazing Grace". Check out this exciting new talent in jazz!
To preview visit here!
Jazz Pianist Pete Malinverni has a new CD. "Joyful!" is the CD and companion DVD of a live concert recording of Pete Malinverni's music for Gospel Choir and Jazz Ensemble. It features the Devoe Street Baptist Church Choir of Brooklyn, NY and a host of great singers and players, including Yvette Glover, Jody Sandhaus, Afua Monk-Addo, Steve Wilson, Joe Magnarelli, Todd Coolman and many others. The music is a suite for Gospel Choir and Jazz Ensemble based on the Psalms Of David.
To preview visit here!
Jazz Pianist Jim Martinez has a new recording of his jazz trio. The CD, "Three Equals One" includes Gregory Tardy, Geoff Cooke and Ricky Malichi. This is a feast of straight ahead jazz covering standards and more! "Hamp's Boogie Woogie", "Autumn Leaves, Gershwin's, "But Not For Me", Billy Strayhorn's, "Intimacy Of The Blues" to name just a few.
To preview visit here!
Smooth Pizzazz Radio Reaches Milestone!
More than 50,000 hrs. have been logged in listening time since Smooth Pizzazz has been on the air via the internet! All over the world people tune in and the average listening time is over one hr! Listening hr's. now totals over 50,000 hrs! Internet radio continues to grow and we are excited to be a part of it!
Smooth Pizzazz...Jazz with Pizzazz! Just a few clicks away is an internet radio station containing nearly 500 tracks from top jazz artists. Broadcasting all over the world 24/7 Smooth Pizzazz has the most complete collection of jazzed up hymns, sacred jazz, and spirituals you will find anywhere! Its free so what are you waiting for? More info here!